Celebrating IWD2023 - Embracing Equity in Sport Webinar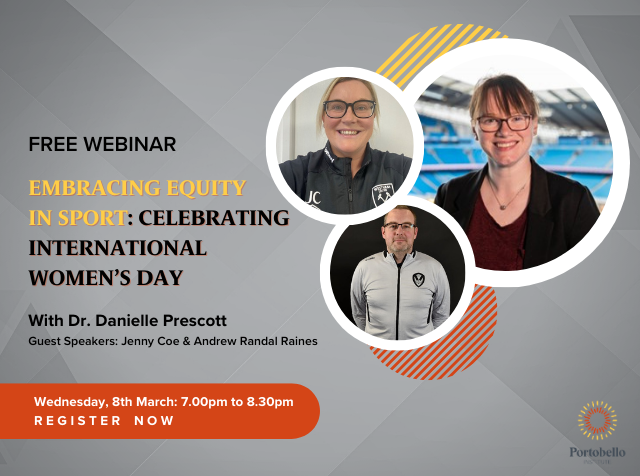 Portobello Institute is delighted to celebrate International Women's Day 2023 and support this year's theme of #EmbraceEquity
Wednesday, 8th March '23 | 7pm - 8.30pm
We invite you to this webinar with three industry practitioners from the world of elite sport who will discuss their experiences and the importance of embracing equity when it came to being successful in their chosen careers.
Dr Danielle Prescott
Performance Analyst, Educator & Professional Football Scout
Danielle has over 16 years' experience working within elite sport as both a performance analyst (PA) and professional football scout fo a variety of professional football clubs. Danielle's current roles include working with Manchester United as a professional academy scout across ages 12-21 and with The FA as a Talent Scout for the England Lionesses. Danielle has also been teaching for over 15 years within numerous universities in the north west of England within the area of sports coaching, sports science and performance analysis, before moving to Anglia Ruskin University as an Academic Employability Consultant (PhD specialism).
Jenny Coe
Head of Performance & Wellbeing with West Ham United Women's Team
Jenny Coe is an advocate for mental wealth and women in sport as she seeks to support and influence change in these areas during her career. Jenny is Head of Performance and Wellbeing with West Ham United Women's Team whilst also working across a number of Olympic sports as a high-performance coach developer and performance analyst. Her athletic career spanned 15 years of international basketball and she has a wealth of experience coaching internationally. On the back of that she is a founding member of the company Impact the Game that aims to support athletes and coaches in all areas of performance.
Andrew Randal Raines
PhD candidate & Performance Analyst with St Helens RFC Women's Team
Andrew has been involved with elite sports environments for 15 years', as both a coach and as a performance analyst (PA). Andrew has also been teaching in FE and HE for over 20 years, teaching in the areas of sports coaching, sports science, and performance analysis. In addition to working full time as a lecturer, Andrew has always worked as a practitioner of PA and as a sports coach in environments such as Wigan Warriors, Saint Helens RFC, and Lancaster City FC. Andrew is currently completing a PhD based on the work that he is doing at Saint Helens RFC centered around head injury assessments (HIA) and the interdisciplinary requirements of PA.
Register here to attend this webinar
Wednesday 8th March '23 at 7pm .
Once you submit the form below, you will receive an email by reply, with a link to access this webinar on MS Teams