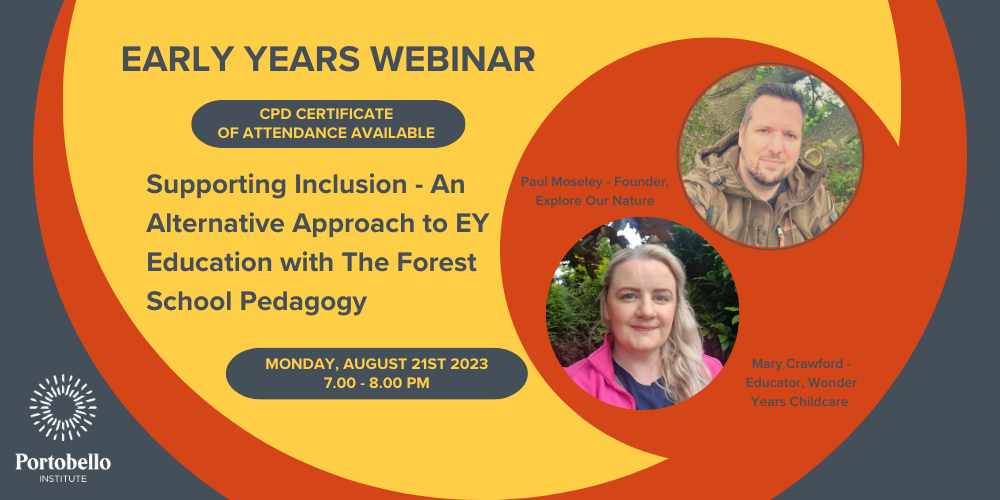 Supporting Inclusion - An Alternative Approach to EY Education With The Forest School Pedagogy: Join Portobello Institute's Informative Webinar on Monday, August 21st, 2023
The Forest School Pedagogy has long been recognised as a valuable attribute to any child's education and well-being and is essential for the healthy development of a child's brain.
Although the Irish weather can be unpredictable a well-planned, child-led outdoor experience can provide an enjoyable inclusive experience in a nurturing environment.
Learn how you can integrate the Forest School Pedagogy into your practice.
This webinar explores the benefit of utilising the outdoors and natural environment to help promote access and inclusion for children of all abilities. It will examine how nature helps bring balance back into our lives supporting wellbeing and mental health, and how a forest school provides opportunities for children to explore, investigate, solve problems, make friends, and support each other as they all reach their full potential.
A CPD certificate of attendance will be emailed to attendees after the webinar.
Read more about nature and well-being here:
https://childhoodmentalhealth.com/2021/04/05/breathing-in-nature/
https://childhoodmentalhealth.com/2021/09/05/outdoor-environments/
Hear from a range of speakers on the night
Mary Crawford
Educator, Wonder Years Childcare
Mary works as a Forest School educator and is the manager of Wonder Years Childcare, Letterkenny. She has gained immense experience in the field of Early Years as an educator and also as a trainer of practical workshops for Early Years educators. Mary holds a BA (Hons) in Early Childhood Studies and is currently completing her MA in Early Childhood Studies with Portobello Institute and is passionate about using the Forest School Philosophy to educate and support young children's wellbeing. Mary believes that all children have an inherent attraction and connection to nature and the outdoor environment, which educators need to nurture and enhance if children are to gain all the benefits from this natural resource.
Paul Moseley
Founder, Explore Our Nature
Paul is the founder of Explore Our Nature, a project to create more meaningful connections with nature through bushcraft, foraging, tracking, woodcraft and forest school. He has been teaching both in the UK and internationally for over 20 years, from working in a variety of cultures and ecologies, to adapting how to explore meaningful relationships with nature and nurturing communities. Before setting up Explore Our Nature, Paul was a community forester, advanced forestry instructor, countryside ranger, forest school trainer and bushcraft instructor. Throughout this time he focussed on how to develop genuine communities and on creating an emotional response to the natural world and meaningful sense of purpose within practitioners. Paul is currently undertaking a Masters in Outdoor and Experiential Learning, specializing in Bushcraft. Here he is researching different kinds of relationships that can be had with the natural world as well as the experiences that enable us to explore them.
Register now - not to be missed!
Don't miss out on this opportunity to learn how you can integrate the Forest School Pedagogy into your practice. Register now for our webinar on Monday, August 21st, from 7:00-8:00pm. We look forward to seeing you there!
Choose the Course for the Career you Want
If you would like further information, please visit our website or contact Jennifer Matteazzi, at jennifer.matteazzi@portobelloinstitute.com